Trumpet Vine Tarantella® -
Campsis tarantella® (latin)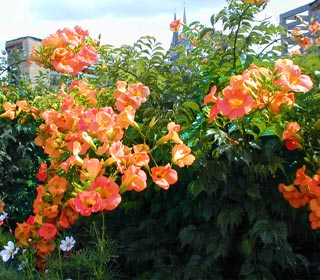 Adult dimensions: Length of lianas up to 8 m.
Foliage: Deciduous.
Type of soil: Free draining.
Hardiness: Hardy to -15°C.
Exposure: Full sun.
Characteristics and uses: The trumpet Vine Tarantella is a climber with a compact shape.
Its abundant flowers are vivid orange with a paler centre. They appear from August right trough to October.
This later flowering variety is extremely hardy. Its shimmering blossom takes place while, at the same time the leaves from the surrounding trees are falling...