Area of origin: Western Mediterranean.
Adult Dimensions: Height up to 20 m, with up to 20 m (65,6').
Foliage: Evergreen, renewed each year a portion of its foliage.
Soil Type: Well drained and aerated. Dislikes lime.
Hardiness: Fairly hardy but doesn't like very bad winters. Hardy to -16°C.
Exposure: Full sun.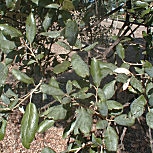 Characteristics and Uses:
This beautiful tree is best known for it's bark of cork. In France, it is not unusual to find it growing naturally within the Landaise forests or in the area around Perpignan. This tree can be planted alone or in a group. The procedure for removing the bark is called "démasclage". The bark provides a good resistance to fire.