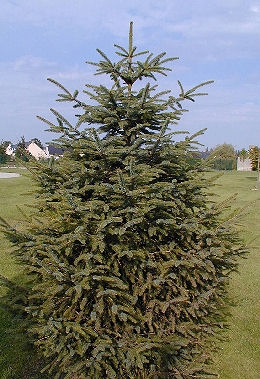 Area of origin: North America.
Adult Dimensions: Height up to 20m (65,6'), width up to 3m (9,8').
Foliage: Evergreen, green on top and silver grey underneath.
Soil Type: All.
Hardiness: Hardy to -20°C . Needs a wet atmosphere.
Exposure: Shade to full sun.




Characteristics and Uses: Magnificent ornamental conifer. Very well known for Christmas Trees, it is planted alone, and used for creating beautiful avenues. It is used widely for creating woods in the UK, The rose tinted wood has the same uses as the Norway Spruce.