Korean Spice Viburnum 'Aurora' –
Viburnum carlesii 'Aurora' (latin)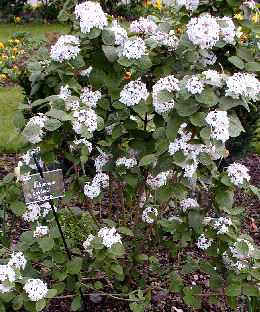 Area of origin: Korea. Introduced in Europe in 1902. The cultivar 'Aurora' was obtained by Slieve Donard (Northern Ireland).
Adult dimensions: Height: up to 2.5 meters (8'). Spread: up to 2 meters (6,5').
Foliage: Deciduous.
Type of soil: Prefers cool and acidy soil.
Hardiness: Frost hardy to -17°C.
Position: Semi-shade to full sun.
Features and characteristics:
Very beautiful flowering period from April to May. Its highly perfumed, delicate pink blooms are arranged in large bunches. Korean Spice Viburnum 'Aurora' can be planted singly or in flowerbeds where its blooms make it easily identifiable.
List of Viburnum:
Guelder-Rose (Viburnum opulus), abundant blossom of large umbrella shaped flat heads, followed by extremely decorative red berries, red wine colored foliage in autumn
Laurustinus (Viburnum tinus), evergreen foliage, white blossom from November through to April
Snowball Tree (Viburnum opulus 'Roseum'), magnificent abundant blossom from April through to June, brilliant white ball like flower heads
Wayfaring Tree (Viburnum lantana), white blossom, followed by red berries, turning black, extremely appreciated by birds

See the Viburnum catalogue