Home > Plants > Jasmine, Primrose
Jasmine, Primrose / Jasminum mesnyi
Buy: Jasmine, Primrose
Everything about: Jasmine, Primrose
Primrose jasmine -
Jasminum mesnyi (latin)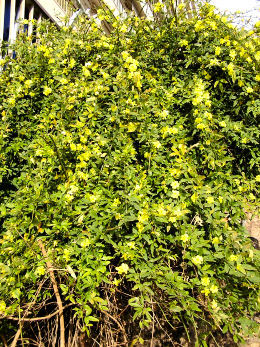 Geographical origins: Western China.
Adult dimensions: Height: up to 2.5m (8,2'). Spread: up to 2m (6,6').
Foliage: Evergreen.
Type of soil: Suits all soil except too moist.
Hardiness: Hardy to -12°C.
Site: Semi-shade to full sun.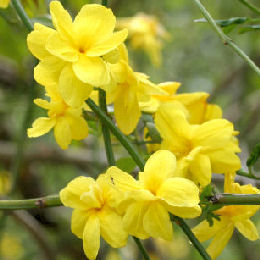 Characteristics and uses: Ravishing, perfumed, yellow, trumpet shaped flowers from the beginning of spring. Spectacular in flower beds or incorporated into mixed hedges and screens. If it is grown in confined spaces, the primrose jasmine needs to be pruned back often during the year. Can be grown as a bush or simply trained.
List of Jasmines:
Arabian Jasmine (Jasminum sambac), hardy to -5°C, highly fragrant white flowers, evergreen foliage.
Italian Jasmine (Jasminum humile 'Revolutum'), hardy to -9°C, scented deep yellow blossom at the beginning of summer, evergreen foliage.
Madagascar Jasmine (Stephanotis floribunda), it will die if the temperature is below 10°C, many highly perfumed white flowers, evergreen foliage.
Night Blooming Jasmine (Cestrum nocturnum), is a sought after shrub because of its nocturnal flowering and very intense perfume.
Pink Jasmine (Jasminum X stephanense), hardy to -15°C, scented pink flowers in spring and summer, deciduous to semi-evergreen foliage.
Red Jasmin (Jasminum beesianum), hardy to -12°C, raspberry pink to red small flowers, which have a delicate sweet scent, deciduous to semi-evergreen foliage.
Star Jasmine (Trachelospermum jasminoides), hardy to -15°C, star-shaped white flowers, evergreen foliage.
White jasmine (Jasminum officinalis), hardy to -12°C, highly scented white flowers, semi evergreen foliage.
Winter Jasmine (Jasminum nudiflorum), hardy to -15°C, small bright yellow flowers in winter, deciduous foliage.

See the Jasmine catalogue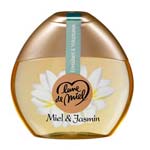 Honey and Jasmine: Although the heady perfume of the Jasmine spices up the creaminess of the natural honey, their subtle combination gives rise to a totally new taste full of a thousand different flavors...

See our offers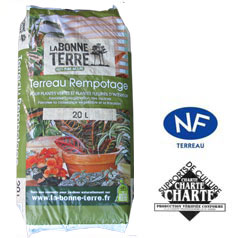 POTTING COMPOST: Suggested use Bougainvilleas, Crotons, Cycas, Cyclamens, Dumb canes, Dragon trees, Tree ivy, Ficus, Ferns, Gardenias, Hibiscus, Busy Lizzie, kalanchoes, Ivies, Jasmin, Marantas...

See our offers
Your reviews about: Jasmine, Primrose