Pheasant berry 'Purple Rain' –
Leycesteria formosa 'Purple Rain' (latin)
Area of origin: Himalayas.
Adult Dimensions:
Height up to 2 metres (6,6'),
width up to 1.5 metre (4,9') .
Foliage:
Semi- evergreen,
bluish green.
Soil type: All.
Hardiness: Hardy tolerant to -15°C.
Exposure: Shade to full sun.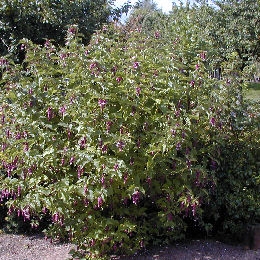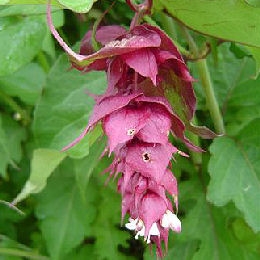 Characteristics and Uses:
Very beautiful pink trailing flowers from June to September. The flowering and the bright red berries that follow add originality to your garden. It seems that pheasants are partial to the berries of this tree. It can be planted alone or in groups.