Cherry tree Bigarreau Napoléon - Prunus cerasus 'Bigarreau Napoléon' (latin)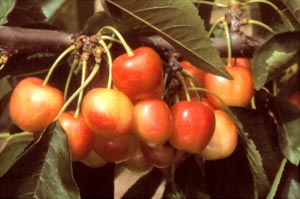 Geographic origin: Asia Minor.
Adult size: Height up to 18 metres.
Foliage: Deciduous.
Type of soil: All, except very damp.
Climate: Hardy, however the flowers will die if temperatures fall below -3°C.
Position: Full sun.
Pollinators: Burlat.
Characteristis and uses:
The cherry tree is a tree that is often found in our gardens. It is covered by large numbers of flowers in April, just before the cherries arrive. The cherry tree is one of the fruit trees that demands the least attention and produces fruit most easily. Cherry trees grow very quickly, up to a metre per year and a large harvest of fruit can be expected from the second year onwards.

The cherry tree Bigarreau Napoléon produces large fruits from June onwards, they are yellow with red overtones, and the flesh is white, sweet and juicy.
www.planfor.co.uk