Honeysuckle Tellmanniana -
Lonicera Tellmanniana (latin)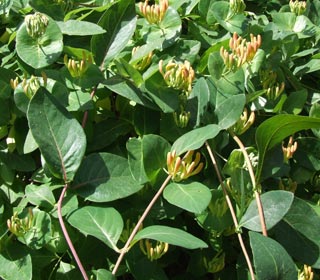 Author: Jerzy Opiola
Adult dimensions: Height up to 6 m.
Foliage: Deciduous.
Type of soil: Any.
Hardiness: Hardy.
Exposure: Shade to Mid-shade.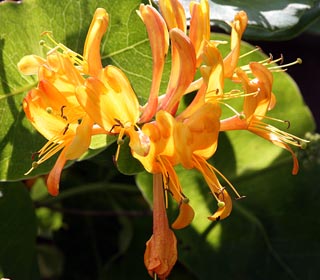 Author: Hedwig Storch
Characteristics and uses:

The Honeysuckle 'Tellmanniana' will grow profusely in all remote areas of your garden. Planted in the shade and in moist soil, it can be grown either as a ground cover plant or as a climber.

Its golden- yellow flowers appear in May to June.
List of Lonicera:
Honeysuckle Box leaved (Lonicera nitida)
, excellent ground cover...
Honeysuckle Edible, May Berry (Lonicera kamtschatica)
, produces edible blue berries...
Honeysuckle Fly (Lonicera xylosteum)
, much used within country hedges...
Honeysuckle Goldflamme (Lonicera heckrottii Goldflame)
, tubular, vivid red shaped flowers, reveal a yellow-orange centre...
Honeysuckle Hall's prolific (Lonicera japonica Hall's prolific)
, very fragrant flowers, creamy-white to start with then yellow...
Honeysuckle Shrubby (Lonicera fragrantissima)
, small white flowers heavily scented and full of nectar...