Butterfly Lavender - Lavandula stoechas var. pedonculata (latin)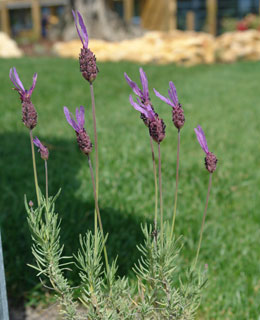 Geographic Origin: Iberian peninsula.
Adult size: Height up to 80 cm, width up to 60 cm.
Foliage: Evergreen.
Type of soil: Light, poor, not too much chalk and dry.
Hardiness: Hardy to -10°C.
Site: Full sun.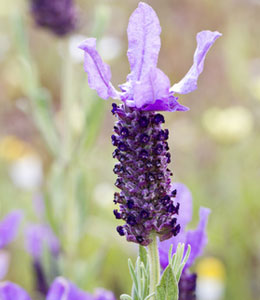 © Mauro Rodrigues - Fotolia.com
Characteristics and uses: The butterfly lavender has a compact form with very decorative grey green foliage. From April through to June it produces lovely blue violet flowers, which are topped with two larger lighter petals that look like lots of little butterflies.
These flowers are very scented and will fill your garden with a lovely perfume. They could equally be used in country bouquets or dried and used to fragrance your cupboards.
www.planfor.co.uk