Passion Flower 'Perfume passion' -
Passiflora x belotii 'Perfume passion' (latin)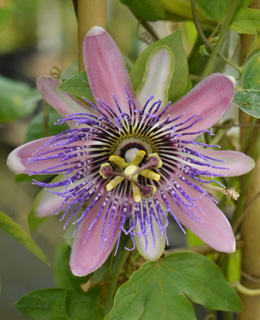 Adult dimensions: Height up to 3 m, width up to 2 m.
Foliage: Evergreen, can nevertheless loose its leaves in a very harsh winter.
Type of soil: Any, well drained.
Hardiness: Hardy to -12°C when well settled in. Plant it sheltered from drafts and cold winds.
Site: Full sun.
Characteristics and uses: The Passion Flower 'Perfume passion' has superb highly fragrant lilac- white flowers (lemony scent) from April right through to the end of the summer. This climber is very vigorous and grows rapidly once settled. Plant it at the base of a trellis or an arch, preferably sheltered from drafts. In the coldest areas, it is best to plant it in tubs and to keep it in a light, cool room throughout winter.
Finally, do not hesitate to prune your Passion Flower quite hard at the end of winter to encourage it to bush.
Other Passiflore:
Passion flower, Blue (Passiflora caerulea), Hardy to -12°C, beautiful flowers from May/June through until September.