Windmill Palm, Chusan Palm - Trachycarpus fortunei, chamaerops fortunei (latin)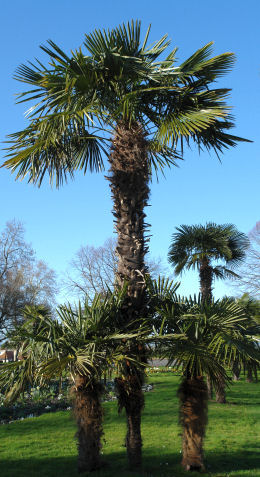 Arcachon Botanical Park - France
Area of origin: China.
Adult Dimensions: Height up to 15 m(49,2'), width up to 2 m (6,6').
Foliage: Evergreen, dark green.
Soil Type: All.
Hardiness: Hardy to -16°C. This is one of the rare palms that can be planted in the north of France if sheltered from cold air currents.
Exposure: Full sun.
Characteristics and Uses:
If you dream of having a palm in your garden but you live in an area with a cold winter this palm is for you. This variety grows more quickly than other species.
Beautiful creamy perfumed flowers in May and June produce violet brown drupes. This plant can be put to many uses, in the flowerbed, planted alone or in a group in a container for terraces and balconies or inside.
It is a piece of your holiday you can keep at home.
To read:
Shrubs and trees around a swimming pool By Jean-Michel Groult.
www.planfor.co.uk