Red chokeberry 'Brilliant' –
Aronia arbutifolia Brilliant (latin)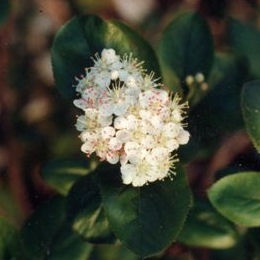 Area of origin: Northern America.
Adult Dimensions: Height up to 2 metres (6.6'), width up to 1.5 metre (4.9').
Foliage: Deciduous.
Soil type: All. Dislikes lime.
Hardiness: Hardy to -30°C.
Exposure: Semi-shade to full sun.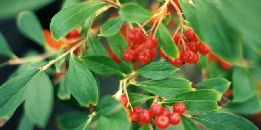 Characteristics and Uses:
The exceptional colouring of the foliage in autumn changes from yellow to orange then red. The white flowers in spring produce bright red edible fruits in summer. This shrub can be planted alone or within a mixed hedge.
List of trees and shrubs with edible fruits:
Black Chokeberry 'Viking' (Aronia melanocarpa 'Viking'), slightly acidic berries, purple black used in jam-making
Blueberry Bush 'Jersey' (Vaccinium corymbosum 'Jersey'), slightly acidic fruits, from August
Common Hazel (Corylus avellana), nuts from September
Common Walnut (Juglans regia), nuts from end of October, delicious in salads
'Jenny' Self Fertile Kiwi (Actinidia chinensis 'Jenny'), hardy to -12°C
Pineapple Guava (Feijoa sellowiana), fruits rich in vitamin C and pineapple taste, only grows in warm climate areas
Raspberry 'Fall Gold' (Rubus idaeus 'Fall Gold'), soft fruits, fragrant, orangey yellow, double cropping and self-fertile variety
Raspberry 'Heritage' (Rubus idaeus 'Heritage'), soft and fragrant fruits, double cropping and self - fertile variety
Strawberry Tree (Arbutus unedo), hardy to -12°C, its fruits look like a strawberry
Sea Buckthorn (Hippophae rhamnoides), extremely decorative fruits, rich in vitamin C
Sweet Chestnut (Castanea sativa), edible fruits when grilled
White Mulberry (Morus alba), pinkish white fruits, sweet

Edible Hedge 'Ophélie', provides edible red fruits throughout the summer
See the catalogue of tree and shrubs with edible fruits