Home > Plants > Cypress, Monterey
Cypress, Monterey / Cupressus macrocarpa
Buy: Cypress, Monterey
Everything about: Cypress, Monterey
Monterey Cypress –
Cupressus macrocarpa, Cupressus lambertiana (latin)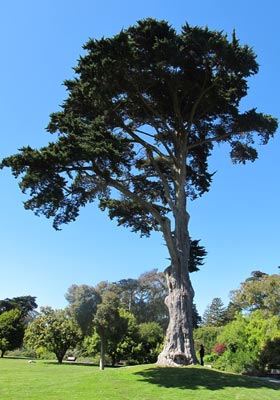 San Francisco botanical garden - United States
Area of origin: California, Monterey Bay. Introduced in 1830.
Adult Dimensions: Height up to 30 m (98.4'), width up to 15 m (49.2').
Foliage: Evergreen.
Soil Type: Any.
Hardiness: Hardy to -16°c.
Exposure: Full sun.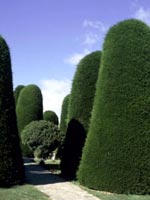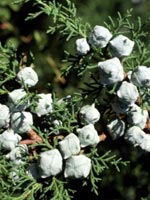 Characteristics and Uses:
Dense and columnar whilst young, the Monterey Cypress spreads as it ages. This is a beautiful park's specimen.
Its rapid growth teamed with its ability to be pruned to shape makes it very popular for use in windbreak hedging, in particular on coastal areas.
The needles of the Monterey Cypress release a scent of citronella when rubbed.
List of Cypress:
Bald Cypress (Taxodium distichum), deciduous foliage, acid and humid soil, browny yellow foliage in the autumn.
Boulevard Sawara False Cypress (Chamaecyparis pisifera 'Boulevard'), dwarf conifer, rounded weeping shape, bright green foliage with hints of white.
Italian Pencil Cypress (Cupressus sempervirens 'stricta'), narrow columnar shape.
Italian Cypress (Cupressus sempervirens pyramidalis), narrow columnar shape.
Lawson Cypress (Chamaecyparis lawsoniana), conical shape and dense foliage, citronella scented bark, can be used in a hedge, dislikes chalky soil.
Lawson Cypress 'Columnaris Glauca' (Chamaecyparis lawsoniana 'Columnaris Glauca'), conical shape, blue grey foliage.
Lawson Cypress 'Ellwoodii' (Chamaecyparis lawsoniana 'Ellwoodii'), dwarf conifer, conical shape, green grey foliage.
Lawson Cypress 'Ellwood's Gold' (Chamaecyaris lawsoniana 'Elwood's Gold'), dwarf conifer, conical shape, golden green foliage.
Leyland Cypress (Cupressocyparis leylandii), rapid growth, often used in hedges, extremely hardy.

See the Cypress catalogue
Your reviews about: Cypress, Monterey