Bamboo Phyllostachys nigra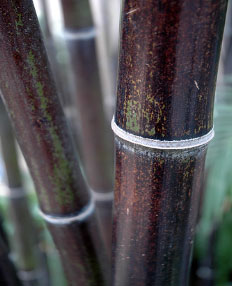 Geographic Origin: Originates from China and Taiwan.
Adult size: 5.5 to 7.5 metres in height.
Diameter of cane: 2cm to 4cm.
Foliage: Evergreen.
Type of soil: Moist and deep. Dislikes excess of lime.
Climate: Needs to be sheltered from cold winds.
Exposure: Full sun.
Hardiness: -22°C.
Root development: Weak runner root system (slightly spreading variety).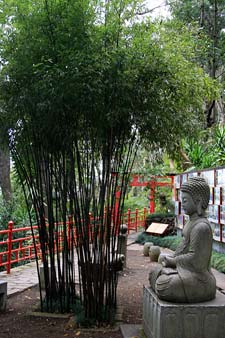 Hedwig Storch -
Creative Commons
Characteristics and uses: It is recommended to plant this bamboo in small clumps. The unique color of its stems allows you to achieve spectacular effects when it is combined with other differently colored bamboos.

The young stems are initially green and covered with a white powdery coating. They progressively become darker turning an ivory black color, especially if they are exposed to the sun. The leaves are very slender, green on top and bluish grey underneath.

The turions of the phyllostachys nigra are edible. It is commonly known as the "black bamboo".
www.planfor.co.uk