Japanese Maple "Butterfly" –
Acer palmatum 'Butterfly' (latin)
Geographical origins: Japan, China and Korea.
Adult dimensions: Height up to 3 metres, Width up to 2 metres.
Foliage: Deciduous.
Type of soil: Requires a well dug soil, loamy and rich in organic matter or a peaty or acid soil. Not suitable for chalky soil.
Climate: Hardy to -17°C .
Exposition: Grows best in shade or partial shade.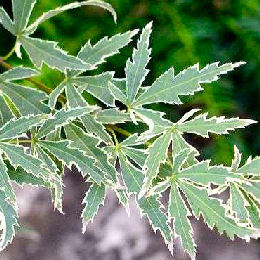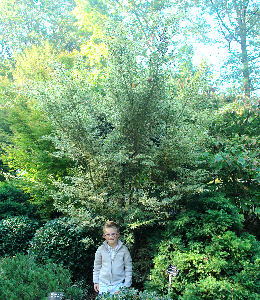 Characteristics and uses:
Its leaves are lightly indented, green-grey with white-pink edges, turning yellow with red edges in the autumn.This Maple can be planted as a specimen in a small garden or as part of a group of shrubs.
You will notice the beauty of its young pinkish shoots in the spring that produce a new looking shrub every season.
It is also a beautiful bonsai specimen.
List of Japanese Maples:
Deshojo Japanese maple (Acer palmatum 'Deshojo')
, bright red foliage throughout the spring and the autumn, light green in summer
Japanese Maple
, beautiful autumnal foliage
Japanese Maple 'Atropurpureum' (Acer palmatum atropurpureum)
, serrated leaves, purple, then bronzy red
Japanese Maple 'Dissectum garnet' (Acer palmatum 'Dissectum Garnet')
, weeping shape, finely serrated red leaves
Japanese Maple 'Dissectum viridis' (Acer palmatum 'Dissectum Viridis')
, weeping shape, light green finely serrated leaves, turning golden to red in the autumn
Ornatum Japanese maple (Acer palmatum 'Ornatum')
, compact rounded shape, finely serrated leaves, dark red
See the catalogue of all the Maples
See the Japanese Maples catalogue