Royal Poinciana, Flame tree -
Delonix regia (latin)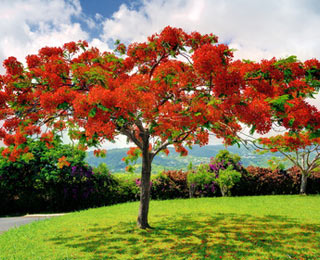 Geographical origin: Ile de Madagascar.
Adult dimensions: Height between 5 to 10 m in its natural habitat.
Foliage: Semi-evergreen.
Type of soil: Rich, light and drained.
Hardiness: Non-hardy, The plant needs a temperature of at least 10°C to survive.
Site: Full sun.
Characteristics and uses: The Royal Poinciana is a magnificent shrub, which needs to be grown indoors, in a pot, under our latitudes. It takes its name from its spectacular summery blossom, when it adorns large, crimson red flowers.
Plant your Royal Poinciana in a large pot, using free draining compost. Water regularly, but not excessively. The Royal Poinciana withstands longer periods of dryness when well settled.