Kyushu Panicle Hydrangea –
Hydrangea paniculata 'Kyushu' (latin)
Area of origin: China and Japan.
Adult Dimensions:
Height up to 2m, width up to 2m(6.6').
Foliage: Deciduous.
Soil Type:
Wet and well drained. Enrich if too poor. Dislikes lime.
Hardiness:Hardy to -25°C.
Exposure: Semi-shade to full sun.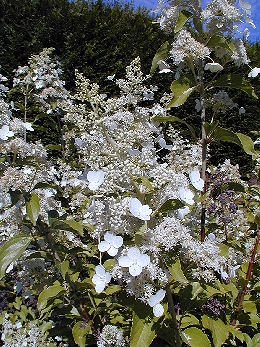 Characteristics and Use:
Superb and abundant white flowers in panicles measuring up to 50cm (19.7") long, illuminate the garden from June to September. This is a very vigorous shrub, hydrangeas are well known for brightening the northern aspect of buildings and can just as well be used under trees, in flowerbeds or mixed groups.
Pruning advice:
All panicle hydrangeas flower on new stems. For the first three years cut only the withered flowers. They can then be pruned by 50% every three years, between November and March. This promotes the development of strong flower stems.