Area of origin: California.
Adult Dimensions: Height up to 1.5m, width up to 1.5m (4.9').
Foliage : Evergreen.
Soil Type: Avoid too much lime or soil that is too compact.
Hardiness: tolerant to -12°C. Fairly hardy but protect from very cold winds. Very good resistance to atmospheric pollution.
Exposure: Semi-shade to full sun.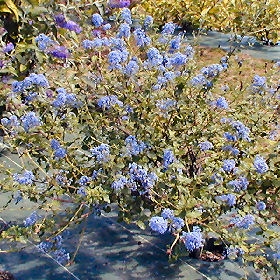 Characteristics and Uses:
Very beautiful abundant flowers of bright blue which are stunning against the dark green foliage. This magnificent shrub is planted alone in the ground or in a container and also within flowerbeds. It is also very good for attractive hedging. It does well with pruning and can be cut to shape.