Areas of Origin: China and Japan.
Adult Dimensions: Height up to 5 m et width up to 5 m (16.4').
Foliage: Deciduous.
Soil type : All. Fertile and well drained.
Hardiness: In the earlier years it is advised to protect young plants from severe frosts. With age this plant becomes more hardy to reach a tolerance of -25°C.
Exposure: Semi-shade to full sun.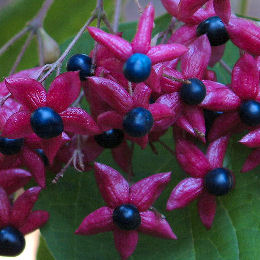 Characteristics and Uses:
Magnificent white flowers from August to September. The perfumed flowers grow in panicles of 15-20cm in diameter with very decorative fruits. They appear in in autumn and last a long time providing great pleasure. The most interesting aspect of this shrub is that it displays a parasol home for its decorative fruits. It can be planted alone or within a group.