'La Sevillana'® Meigekanu Rose -
Rosa 'La Sevillana'® (latin)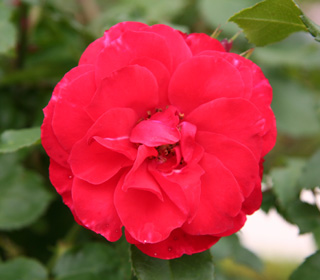 © Georges Seguin
Breeder: Meilland 1978.

Blossom: Continual flowering.
Flower diameter: Approximately 7 cm.
Fragrance: None.
Adult dimensions: Height up to 1.50 m, width up to 70 cm.
Foliage: Deciduous.

Type of soil: Rich and well drained, neutral to acid.
Climate: xtremely resistant to frost, parasites and diseases.
Site: Full sun.
Planting spacing: Every 60 cm.
Characteristics and uses:
The Garden rose 'La Sevillana'® is a superb rose highly resistant to diseases, parasites and pollution. It will be covered with an abundance of bright vermilion red flowers from May to frost. This very floriferous rose find its place solid, borders, or even in pots on a patio or balcony.
Awards:
German A.D.R. Label obtained in 1979.