Burkwood Osmanthus - Osmanthus x Burkwoodii (latin)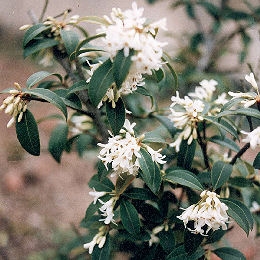 Area of origin: Found in 1919.
Adult Dimensions: Height up to 3 m (9,8'), width up to 2 m (6,6').
Foliage: Evergreen.
Soil Type: Well drained. Enrich if too poor.
Hardiness: Protect from cold winds. Hardy to -15°C.
Exposure: Semi-shade to full sun.
Characteristics and Uses:
The white flowers appear from April to May and this shrub also has magnificent bright green foliage and has a lovely scent of Jasmine. Often planted in flowerbeds and hedges.
www.planfor.co.uk