Buddleia or Butterfly bush 'Royal Red' –
Buddleia davidii or Buddleia variabilis (latin)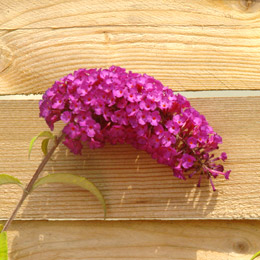 Areas of origin: China. Discovered in 1869 by the abbot David. Introduced in 1895.
Adult Dimensions: Height up to 3 metres, width up to 3 metres (9.8').
Foliage: Deciduous.
Soil type: All.
Hardiness: Hardy tolerant to -20°C.
Exposure: Full sun.
Speed of growth: Up to 1.5 metres in the first year.