Area of origin: Hybrid of Philadelphus x lemoinei and Pphiladelphus x nivalis 'Plenus.
Adult Dimensions: Height up to 2.5m (8,2'), width up to 1.5m (4,9').
Foliage: Deciduous.
Soil Type: All.
Hardiness: Hardy to -40°C.
Exposure: Full sun.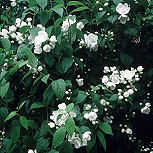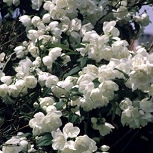 Characteristics and Uses: Beautiful and abundant white highly fragranced flowers in July and August. This very vigorous shrub can be planted alone in a park or garden or within a mixed bed, in flowering hedges or even in a container.
The Philadelphus x virginalis goes beautifully with:
Abelia grandiflora, beautiful pale pink - white blossom throughout summer
Beauty Bush 'Pink Cloud' (Kolwitzia amabilis 'Pink Cloud), abundant pale pink blossom in June - July, red foliage in the autumn
Border Forsythia (Forsythia intermedia), early golden yellow blossom
Buddleia (Buddleia Davidii), abundant and scented blossom throughout summer, highly attractive to butterflies
Heavenly Bamboo (Nandina domestica), beautiful white blossom throughout spring and summer, followed by extremely decorative red berries
Laurustinus (Viburnum tinus), white blossom from November through to April, followed by bluish - black berries
Milkflower Cotoneaster (Cotoneaster lacteus), white blossom in June - July, followed by red berries in October
Oregon Grape (Mahonia aquifolium), blossom of lemony yellow clusters in January
Smoke Bush (Cotinus coggygria), feathery inflorescences in summer, red foliage in the autumn
Variegated Pink Weigelia (Weigelia florida 'Variegata'), abundant blossom of pink bell shaped flowers throughout summer
Weigelia 'Bristol Ruby', abundant blossom from May through to September, ruby red bell shaped flowers

Flowering Hedge 'Julie'