Bamboo Phyllostachys Bissetii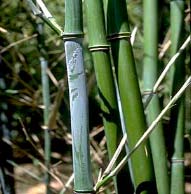 Geographic Origin: Originates from the west of China, mainly from the Sichuan province.
Adult size: 6 to 8 metres in height.
Diameter of cane: 2cm to 2.5cm.
Foliage: Evergreen.
Type of soil: Moist and deep. Dislikes excess of lime.
Climate: Suitable for harsh climates.
Exposure: Partial shade to full sun.
Hardiness: -26°C.
Root development: Runner root system (spreading variety).
Characteristics and uses: This bamboo is hardy and can be used as a hedge or windbreak even in areas with harsh weather conditions. This thick bushy bamboo is happy in all positions. It is also at home in pots or planters.

Its foliage is dark green and sometimes shiny. Its stem is also very dark green with a white waxy coating that covers the young stems; the color does not change much over time. This bamboo has a slightly weeping comportment and is one of the hardiest of the Phyllostachys.
www.planfor.co.uk