Southern Catalpa or Indian Bean Tree –
Catalpa bignonioides (latin)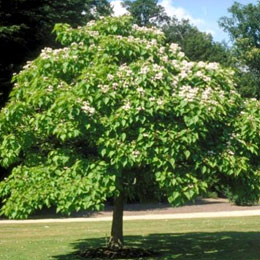 Area of origin: South eastern United States. Introduced into Europe in 1726.
Adult Dimensions: Height up to 15 m (49.2'), width up to 20 m (65.6').
Foliage: Deciduous.
Soil Type: All.
Hardiness: Hardy to -28°C.
Exposure: Full sun.
Speed of growth: Up to 1m in first year.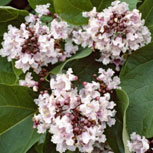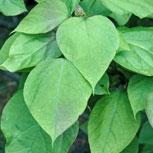 Characteristics and Uses:
This tree has very large leaves up to 25cm (9.8") and is an excellent tree for providing shade. Its magnificent white flowers appear in July and August.
It is mainly planted alone in parks and gardens.
Photos-Testimonials:

Other Catalpa:
Catalpa bungei, ideal in a small garden or near a terrace, thanks to its slow development. Height up to 7 m.