Area of origin: China.
Adult Dimensions:
Height up to 3m (9.8'), width up to 1.5m (4.9').
Foliage: Deciduous.
Soil Type:
Wet and well drained. Enrich if too poor. Dislikes lime.
Hardiness: Hardy to -25°C.
Exposure: Shade to semi-shade.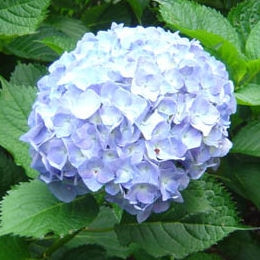 Characteristics and Use:
Superb and abundant blue flowers illuminate the garden from June to September. Hydrangeas are well known for brightening the northern aspect of buildings and can just as well be used under trees, in flowerbeds or mixed groups. Can be used for creating beautiful dried floral arrangements.
List of Hydrangeas:
Adria Hydrangea (Hydrangea macrophylla 'Adria')
, abundant blossom of blue flowers from June through to September
Annabelle Hydrangea (Hydrangea arborescens 'Annabelle')
, large white flowers up to 0.30cm in diameter
Ayesha Hydrangea (Hydrangea macrophylla 'Ayesha')
, large inflorescences of pink flowers
Climbing Hydrangea (Hydrangea petiolaris)
, white blossom throughout the summer
Leuchtfeuer Hydrangea (Hydrangea macrophylla 'Leuchtfeuer')
, superb dark red flowers
Libelle Hydrangea (Hydrangea macrophylla 'Libelle')
, white flowers
Marie Claire Hydrangea (Hydrangea macrophylla 'Marie Claire')
, pale pink flowers
Merveille Sanguine Hydrangea (Hydrangea macrophylla 'Merveille Sanguine')
, beautiful purplish pink blossom from June through to October, the foliage takes on a shiny purple colour at the end of summer
Mme Emile Mouillère Hydrangea (Hydrangea macrophylla 'Mme Emile Mouillère')
, white flowers turning pale pink
Mousmée Hydrangea (Hydrangea macrophylla 'Mousmée')
, lilac pink flowers
Oak Leaved Hydrangea (Hydrangea quercifolia)
, white flowers in cone like shape
Panicle Hydrangeas
Preziosa Hydrangea (Hydrangea macrophylla serrata 'Preziosa')
, small lilac inflorescences, turning dark red , red veined foliage
Renata Blue Hydrangea (Hydrangea macrophylla 'Renata Blue')
, blue to violet flowers
Sybilla Hydrangea (Hydrangea macrophylla 'Sybilla')
, mauve flowers
Tovelit Hydrangea (Hydrangea macrophylla 'Tovelit')
, red to mauve flowers, compact shape
Tricolor Hydrangea (Hydrangea macrophylla 'Tricolor')
, light pink flowers, variegated grey and white foliage
Panicle Hydrangeas
See the Hydrangea catalogue