Russian Sage 'Blue spire' -
Perovskia 'Blue spire' (latin)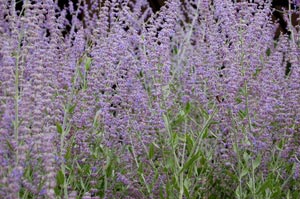 Geographical origin: Afganistan.
Adult dimensions: Height up to 120 cm, width up to 100 cm.
Foliage: Deciduous.
Type of soil: Dry, rich and well-drained.
Hardiness: Hardy to -15°C.
Site: Full sun.
Plantation density: 4 / m².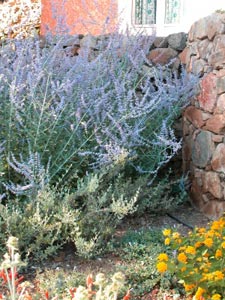 Characteristics and uses: The Russian Sage has a rapid growth and an aromatic silvery foliage, deeply cut, and with a scent of sage. It will thrive in a sunny spot, in a rockery or a border.
Associated with lavenders, other ornamental grasses or Rose bushes, it will enhance them with its beautiful foliage and its abundant small, blue flowers borne in summer.
In winter, it will bring originality to your herbaceous borders thanks to its silver-grey spikes.
To make an impact and create a stunning border, plant 3 per m². Easy to grow, it withstands salt-laden air, drought, and can be grown in pots.
At the end of winter, cut down last year growth leaving 2 or 3 inches to rejuvenate the plant.