Home > Plants > Laurel, common
Laurel, common / Prunus laurocerasus Rotundifolia
Buy: Laurel, common
Everything about: Laurel, common
Common Laurel or Cherry Laurel -
Prunus laurocerasus 'Rotundifolia' (latin)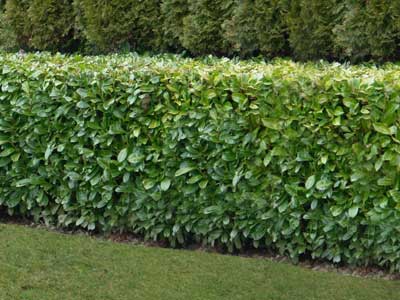 Area of origin: Europe.
Adult Dimensions: Height up to 3 m, width up to 3 m (9,8').
Foliage: Evergreen, bright green.
Soil Type: Dislikes lime.
Hardiness: Tolerant to -15°C.
Exposure: Shade to full sun.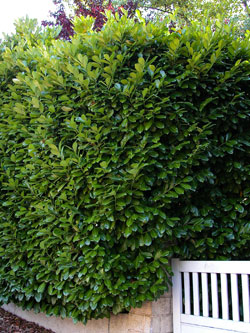 Characteristics and Uses: Beautiful flowers in spring in bunches followed by black drupes which are poisonous to people but edible by birds. Ideal for creating screening hedges.
List of Laurels:
Bay Laurel (Laurus nobilis), small scented greeny yellow flowers, dislikes chalky soil
'Otto luyken' Laurel (Prunus laurocerasus 'Otto Luyken'), dark green leaves, narrow and upright, fragrant blossom early summer and autumn, adult height 1,50m, dislikes chalky soil
Portugal Laurel (Prunus lusitanica), shiny green foliage, white flowers in June, can be used in hedges
Other plants used for hedges compositions:
Abelia grandiflora, beautiful pinkish white blossom throughout summer
Box Leaved Honeysuckle (Lonicera nitida), beautiful foliage reminiscent of the box tree, ideal in low hedges
Common Box (Buxus sempervirens), shiny green foliage, long life expectancy, ideal in low hedges
Common Gorse (Ulex europaeus), abundant and fragrant blossom, ideal for defensive hedges, dislikes chalky soil
Common Yew (Taxus baccata), dark green foliage, toxic red berries and foliage
Dwarf Japanese mock orange, height up to 1m. White flowers, with the fragrance of orange blossom, dark bright green foliage, hardy to -10°C
Eleagnus ebbingei (Elaeagnus ebbingei), extremely fragrant white flowers from September through to December, silvery green foliage
Escallonia 'Iveyi'), fragrant white blossom from July through to September, hardy to -10°C
Hornbeam (Carpinus betulus), extremely beautiful marcescent foliage
Japanese Mock Orange (Pittosporum tobira), white flowers, with the fragrance of orange blossom, dark bright green foliage, hardy to -10°C
Laurustinus (Viburnum tinus), evergreen foliage, white blossom from November through to April
Lawson Cypress (Chamaecyparis lawsoniana), conical shape and dense foliage, its bark smells like citronella, dislikes chalky soil
Leyland Cypress (Cupressocyparis leylandii), rapid growth, extremely hardy
Oval Leaved Privet (Ligustrum ovalifolium), white flowers in July, in panicle, semi-evergreen foliage, hardy to -30°C
Photinia x fraseri 'Red Robin', juvenile red shoots, white umbrella shaped blossom in spring, dislikes chalky soil and harsh frosts
Portugal Laurel (Prunus lusitanica), white blossom in June, shiny green foliage
Red Japanese Barberry (Berberis thunbergii 'atropurpurea'), crimson foliage and yellow flowers with hints of red in the spring, ideal in protective hedges, deciduous.
Your reviews about: Laurel, common