Weeping Blue Atlas Cedar -
Cedrus atlantica Glauca Pendula (latin)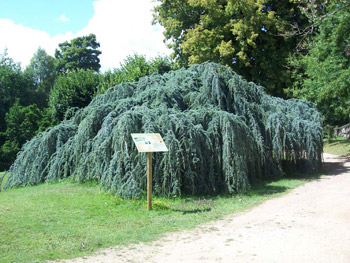 Parc of Reynou, 87 - France.
Geographic Origins: A mutation of the Blue Atlas Cedar.
Adult Size: Height up to 4 metres, width up to 10 metres.
Foliage: Evergreen.
Type of soil: Moist and well drained.
Hardiness: Hardy to -20°C.
Position: Full light.
Characteristics and uses: This weeping blue cedar has quite an unusual history, which is worth explaining. It appeared suddenly following a genetic mutation that occurred at the arboretum of the 'Vallée aux loups' in the 'Hauts de Seine' region. Every example of this tree is in fact a direct descendant of that first cedar!
Its silvery blue needles will light up your garden. Its weeping shape makes it quite an exceptional tree. Due to its small size, it can equally be planted in a park or a small garden. This tree will do best if it is grown on its own.
List of Cedars:
Atlas Cedar (Cedrus atlantica), extremely sought after by bonsai connoisseurs
Himalayan Cedar (Cedrus deodara), long weeping branches
Lebanon Cedar (Cedrus libani), characteristic spreading shape