Area of origin: Eastern region of North America. Introduced in 1755.
Adult Dimensions: Height up to 10m (32.8'), width up to 8m (26.3').
Foliage: deciduous
Soil Type: Deep and fresh.
Hardiness: Hardy to -32°C.
Exposure: Semi-shade to full sun.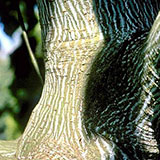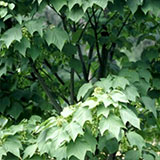 List of Maples:
Amur Maple (Acer ginnala)
, small tree, rapid growth
Box Maple (Acer negundo)
Field Maple (Acer campestre)
, extremely beautiful autumn colours
Italian Maple (acer opalus)
, its foliages turns yellow in the autumn
Montpellier Maple (acer monspessulanum)
, extremely beautiful spreading shape
Norway Maple (Acer platanoides)
, extremely beautiful autumn colours
Paper Bark Maple (Acer griseum)
, unusual bark, beautiful autumnal foliage
Père David's Maple (Acer davidii)
, light soil, attractive bark
Red Maple (Acer rubrum)
, moist soils, dislikes chalky soils
Silver Maple (Acer saccharinum)
, will even grow in flooded land in winter
Sugar Maple (acer saccharum)
, red tint in the autumn
Sycamore Maple (Acer pseudoplatanus)
, extremely resistant to pollution, beautiful yellow foliage in the autumn
Trident Maple (acer buergerianum)
, dislikes chalk, beautiful autumn colouring, sought after by bonsai connoisseurs
Vine maple (Acer circinatum)
, its foliage is very original becoming a lovely orange red in the autumn.
Japanese Maples
, small decorative tree, sought after by bonsai connoisseurs
See the Maples catalogue