Tea Plant - Camellia sinensis (latin)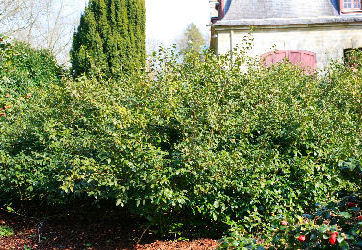 Area of origin: China, Indian sub-continent, Indochina.
Adult dimensions: Height: up to 15 meters (49.2'). Spread: up to 8 meters (26.3').
Foliage: Evergreen.
Soil: Doesn't suit chalky, or compact soil, add heather compost to avoid compactness.
Hardiness: Hardy up to -12°C.
Position: Semi-shade to full sun.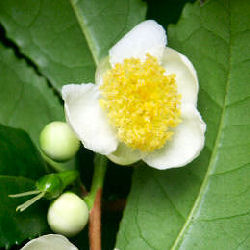 Characteristics and uses:
It is from this plant species that different sorts of tea are obtained. Generally, it is the young leaves found at the end of the branch that are used for tea. About 10kg of leaves are needed to prepare 2.5kg of tea.

This tea tree's flowers are yellowy-white and highly fragrant. Can be planted as part of a wild hedge, in flowerbeds, or singly in a secluded part of the garden.
www.planfor.co.uk