Bamboo Pleioblastus pumilus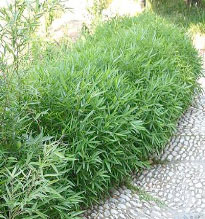 Geographic Origin: Originates from southern and central Japan.
Adult size: 0.3 to 1 metre in height.
Foliage: Evergreen.
Type of soil: Moist and deep. Does not like excessive chalk.
Exposure: Partial shade or sun.
Hardiness: -20°C.
Root development: Weak runner root system (slightly spreading variety).
Plantation density: 6 / m².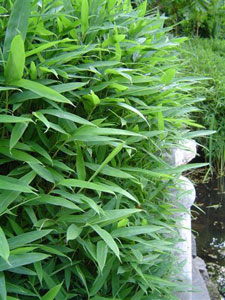 Characteristics and uses:
This bamboo has dark green foliage and an upright shape.

It can be used as either ground cover, equally it can be planted alone or in a border or even in a pot.

It was first introduced into Europe early in the 19th century. Over the years it has managed to establish itself and grow wild in a number of parks and gardens. It is often known under the common name of: pleioblastus pumilus.
www.planfor.CO.UK