Areas of origin: Southern Europe to central China.
Adult Dimensions: Height up to 3 metres, width up to 3 metres (9.8').
Foliage: Deciduous.
Soil type: All. Avoid that which is very wet.
Hardiness: Hardy tolerant to -20°C.
Exposure: Full sun.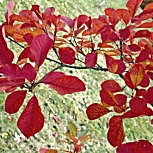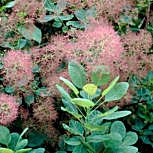 The Cotinus coggygria goes beautifully with :
Abelia grandiflora
, beautiful pale pink - white blossom throughout summer.
Beauty Bush 'Pink Cloud' (Kolwitzia amabilis 'Pink Cloud)
, abundant pale pink blossom in June - July, red foliage in the autumn.
Border Forsythia (Forsythia intermedia)
, early golden yellow blossom.
Buddleia (Buddleia Davidii)
, abundant and scented blossom throughout summer, highly attractive to butterflies.
Heavenly Bamboo (Nandina domestica)
, beautiful white blossom throughout spring and summer, followed by extremely decorative red berries.
Laurustinus (Viburnum tinus)
, white blossom from November through to April, followed by bluish - black berries.
Milkflower Cotoneaster (Cotoneaster lacteus)
, white blossom in June - July, followed by red berries in October.
Oregon Grape (Mahonia aquifolium)
, blossom of lemony yellow clusters in January.
Variegated Pink Weigelia (Weigelia florida 'Variegata')
, abundant blossom of pink bell shaped flowers throughout summer.
Virginal Mockorange (Philadelphus x virginalis 'Virginal')
, abundant white blossom in summer.
Weigelia 'Bristol Ruby'
, abundant blossom from May through to September, ruby red bell shaped flowers.
The Cotinus coggygria is used in the following flowering hedges :
Flowering Hedge 'Julie'