Bamboo Phyllostachys Humilis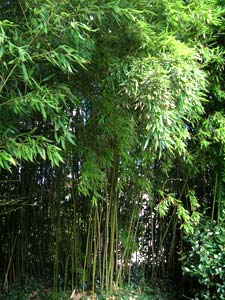 Geographic Origin: Originates from the China and Japan (Honshu).
Adult size: 3 to 5 metres in height.
Diameter of cane: 1.5cm to 3cm.
Foliage: Evergreen.
Type of soil: Moist and deep. Dislikes excess of lime.
Climate: Drought resistant if not prolonged.
Exposure: Partial shade or full sun.
Hardiness: -26°C.
Root development: Runner root system (spreading variety).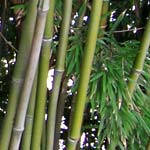 Characteristics and uses: This bamboo is generally planted as single clumps in the garden. It is ideal for small gardens as long as its rhizomes are contained by an anti-rhizome barrier. This bamboo is easily pruned. Some specialists even use it as a bonsai.
The young stems are a very dark green and will turn yellow/red after exposure to the sun. The stems are quite hairy. The small leaves of this bamboo are soft green and slightly weeping. The Phyllostachys humilis is a very vigorous bamboo.
www.planfor.co.uk