Japanese maple Dissectum Garnet –
Acer palmatum 'Dissectum garnet' (latin)
Area of origin:
Japan, China and Korea.
Adult Dimensions:
Height up to 3 m (9.8'), width up to 2m (6.6').
Foliage: Deciduous
Soil Type:
Deep and moist, rich in organic matter. Dislikes lime.
Hardiness:
Hardy to -20°C.Dislikes frosts in spring, cold winds or an atmosphere too dry.
Exposure:
Shade and semi-shade.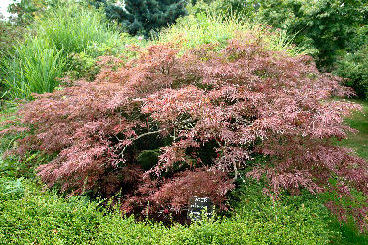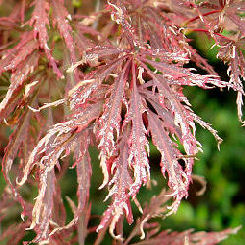 Characteristics and Uses:
Renowned for its light green, ragged foliage which turns crimson in the autumn. Planted alone, in a group, or in flowerbeds, it is a beautiful tree to have in any park or garden. It can also be placed on apartment balconies or on terraces facing north. Being well known in the bonsai world, it would be interesting to place it in a suitable container and prune it regularly during the year.
List of Japanese Maples:
'Butterfly' Japanese Maple (Acer palmatum 'Butterfly')
, finely serrated green grey leaves with pinkish white margins
Deshojo Japanese maple (Acer palmatum 'Deshojo')
, bright red foliage throughout the spring and the autumn, light green in summer
Japanese Maple
, beautiful autumnal foliage
Japanese Maple 'Atropurpureum' (Acer palmatum atropurpureum)
, serrated leaves, purple, then bronzy red
Japanese Maple 'Dissectum viridis' (Acer palmatum 'Dissectum Viridis')
, weeping shape, light green finely serrated leaves, turning golden to red in the autumn
Ornatum Japanese maple (Acer palmatum 'Ornatum')
, compact rounded shape, finely serrated leaves, dark red
See the catalogue of all the Maples
See the Japanese Maples catalogue