Area of origin:
Brazil, Argentina Chile.
Adult Dimensions:
Height up to 2-3m (6.6-9.8') ,
width up to 3m.
Foliage: Evergreen.
Soil Type: All.
Hardiness: Hardy to -20°C.
Exposure: Full sun.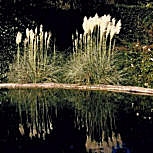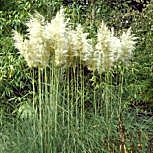 Characteristics and Uses:
Very decorative and impressive, the white feathers are used in dried floral arrangements. It can be planted alone or in flowerbeds, on banks to prevent erosion, and in windbreaks in coastal areas.