Jasmin, Rose / Jasminum X stephanense
Buy: Jasmin, Rose
Everything about: Jasmin, Rose
Pink Jasmine -
Jasminum X stephanense (latin)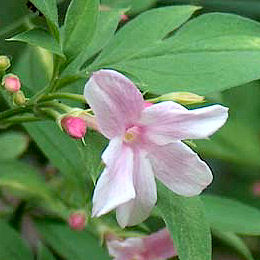 Geographical origins: China, introduced in Europe at the beginning of the 20th century.
Adult dimensions: Height: up to 4m (13'). Spread: up to 3m (9,8').
Foliage: Deciduous to evergreen.
Type of soil: Suits all soils, with a preference for those that are light and enriched.
Hardiness: Tolerant -15°C.
Site: Semi-shade to full sun but sheltered from cold winds to protect flowers.
Characteristics and uses: The Pink Jasmine is a shrub to be trained against a wall, a fence or a pergola. Its pink, perfumed flowers arrive at the beginning of spring and last until the end of summer.
List of Jasmines:
Arabian Jasmine (Jasminum sambac), hardy to -5°C, highly fragrant white flowers, evergreen foliage.
Italian Jasmine (Jasminum humile 'Revolutum'), hardy to -9°C, scented deep yellow blossom at the beginning of summer, evergreen foliage.
Madagascar Jasmine (Stephanotis floribunda), it will die if the temperature is below 10°C, many highly perfumed white flowers, evergreen foliage.
Night Blooming Jasmine (Cestrum nocturnum), is a sought after shrub because of its nocturnal flowering and very intense perfume.
Primrose jasmine (Jasminum mesnyi), hardy to -12°C, scented bell shaped yellow flowers at the beginning of spring, evergreen foliage.
Red Jasmin (Jasminum beesianum), hardy to -12°C, raspberry pink to red small flowers, which have a delicate sweet scent, deciduous to semi-evergreen foliage.
Star Jasmine (Trachelospermum jasminoides), hardy to -15°C, star-shaped white flowers, evergreen foliage.
White jasmine (Jasminum officinalis), hardy to -12°C, highly scented white flowers, semi evergreen foliage.
Winter Jasmine (Jasminum nudiflorum), hardy to -15°C, small bright yellow flowers in winter, deciduous foliage.

See the Jasmine catalogue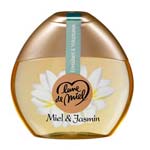 Honey and Jasmine: Although the heady perfume of the Jasmine spices up the creaminess of the natural honey, their subtle combination gives rise to a totally new taste full of a thousand different flavors...

See our offers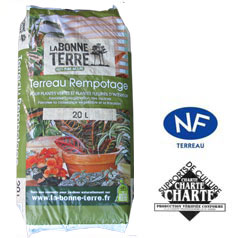 POTTING COMPOST: Suggested use Bougainvilleas, Crotons, Cycas, Cyclamens, Dumb canes, Dragon trees, Tree ivy, Ficus, Ferns, Gardenias, Hibiscus, Busy Lizzie, kalanchoes, Ivies, Jasmin, Marantas...

See our offers
Your reviews about: Jasmin, Rose