Silver Birch or Weeping Birch -
Betula pendula or betula alba or betula verrucosa (latin)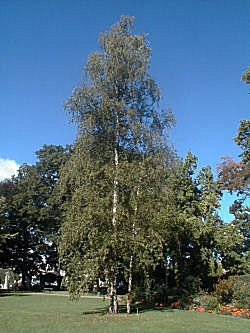 Areas of origin: Europe, from Norway to Sicily.
Adult Dimensions: Height up to 30 metres (98.4'), width up to 20 metres (65.6').
Foliage: Deciduous.
Soil Type: All.
Hardiness: Hardy to -40°C. Pioneering species on light soils, burnt or cleared areas.
Exposure: Full sun.
Speed of growth: Up to 1 metre in the first year.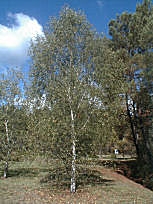 Characteristics and Uses: The leaves of this beautiful tree become yellow in autumn. The white bark of mature trees has deep crevices across the base This is a vigorous tree which can be planted alone, in a group or within a windbreak hedge. It is also a medicinal plant containing betulin and is used as a diuretic, or for treating rheumatism. Leaves are used to make tisanes or as a compress.