Border Hedge / Low Hedge
Aims: The border hedge is used to separate paths and beds. It also allows you to break up your garden and create new areas.
Whatever the situation it must not break the line of view, the plants are there to show off other features, a little like a display box.
It is for this reason that the border hedge is generally made up of a single species.
If for example you would like a vegetable patch, you can divide up the different plots with a low hedge; this not only gives you nicely defined areas but also allows you to have a greater biodiversity.
These hedges are usually made with evergreen plants.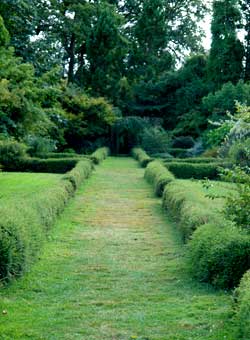 Adult height: The border hedge should not exceed 1m in height.
Period of interest: All year.
Planting distances: Dependant on the plants chosen (See the technical fact sheets).
| Plants | Bloom | Foliage | | |
| --- | --- | --- | --- | --- |
| Box, common | | J.F.M.A.M.J.J.A.S.O.N.D | -24°C | |
| Distylium 'Blue Cascade' | J.F.M.A.M.J.J.A.S.O.N.D | J.F.M.A.M.J.J.A.S.O.N.D | -18°C | |
| Dwarf bamboos | | J.F.M.A.M.J.J.A.S.O.N.D | -20°C | |
| Forsythia, Border | J.F.M.A.MJ.J.A.S.O..N.D | J.F.M.A.M.J.J.A.S.O.N.D | -29°C | |
| Holly, Box-leaved 'Dark Green'® | | J.F.M.A.M.J.J.A.S.O.N.D | -20°C | |
| Holly, Box-leaved 'Green Hedge'® | | J.F.M.A.M.J.J.A.S.O.N.D | -20°C | |
| Honeysuckle, box leaved | | J.F.M.A.M.J.J.A.S.O.N.D | -17°C | |
| Kohuhu | | J.F.M.A.M.J.J.A.S.O.N.D | -10°C | |
| Lavender, common | J.F.M.A.M.J.J.A.S.O.N.D | J.F.M.A.M.J.J.A.S.O.N.D | -17°C | |
| Lavender, Bicolor 'Madrid Blue' | J.F.M.A.M.J.J.A.S.O.N.D | J.F.M.A.M.J.J.A.S.O.N.D | -6°C | |
| Lavender, Butterfly | J.F.M.A.M.J.J.A.S.O.N.D | J.F.M.A.M.J.J.A.S.O.N.D | -10°C | |
| Lavender, French | J.F.M.A.M.J.J.A.S.O.N.D | J.F.M.A.M.J.J.A.S.O.N.D | -10°C | |
| Lavender 'Grosso' | J.F.M.A.M.J.J.A.S.O.N.D | J.F.M.A.M.J.J.A.S.O.N.D | -20°C | |
| Lavender Pink | J.F.M.A.M.J.J.A.S.O.N.D | J.F.M.A.M.J.J.A.S.O.N.D | -20°C | |
| Lavender White | J.F.M.A.M.J.J.A.S.O.N.D | J.F.M.A.M.J.J.A.S.O.N.D | -20°C | |
| Mahonia 'Cabaret' | J.F.M.A.M.J.J.A.S.O.N.D | J.F.M.A.M.J.J.A.S.O.N.D | -15°C | |
| Mock Orange, Dwarf Japanese | J.F.M.A.M.J.J.A.S.O.N.D | J.F.M.A.M.J.J.A.S.O.N.D | -10°C | |
| Photinia, dwarf | J.F.M.A.M.J.J.A.S.O.N.D | J.F.M.A.M.J.J.A.S.O.N.D | -15°C | |
| Spindle Tree, Japanese 'Microphyllus' | | J.F.M.A.M.J.J.A.S.O.N.D | -15°C | |
| Spindle Tree, Japanese 'Green Spire' | | J.F.M.A.M.J.J.A.S.O.N.D | -15°C | |
| Spindle Tree, Japanese 'Paloma blanca' | | J.F.M.A.M.J.J.A.S.O.N.D | -20°C | |
| Weigelia, 'Black and White'® | J.F.M.A.M.J.J.A.S.O.N.D | J.F.M.A.M.J.J.A.S.O.N.D | -20°C | |
KEY

: fragrant Flower

: Flower Color

: LFlowers available in different colors
J.F.M.A.M.J.J.A.S.O.N.D
: Month of the year, foliage present during the months in bold
(Ex. Here the flowering is from May to September.)

: Leaf color
J.F.M.A.M.J.J.A.S.O.N.D
: Month of the year, foliage present during the months in bold
(Ex. Here the foliage is present during the period March to September.)

: Presence of decorative berries and their color

: Plant does not tolerate alkaline soil
-20°C
: Adult plant hardy to -20°C