Defensive Hedge
Aims: The main purpose of the defensive hedge is to prevent any intrusion onto your property. It consists of thorny shrubs and trees; it may also protect you from prying eyes. The defensive hedge can also give you a permanent display of different colors and shapes depending on the plants you chose.
Adult height:The defensive hedge is normally not pruned. Its height will depend on the plants used.
Period of interest: All year.
Planting distances: Every 80cm. The effectiveness of any defensive hedge is dependant on its density, it is therefore important to plant close together.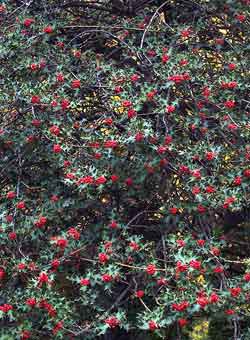 Author: A. Barra - Licence: Creative Commons
| Plants | Bloom | Foliage | Height | | | |
| --- | --- | --- | --- | --- | --- | --- |
| Barberry, Darwin's | J.F.M.A.M.J.J.A.S.O.N.D | J.F.M.A.M.J.J.A.S.O.N.D | H. 2m | | -15°C | |
| Barberry, 'Green carpet' | J.F.M.A.M.J.J.A.S.O.N.D | J.F.M.A.M.J.J.A.S.O.N.D | H. 0.5m | | -15°C | |
| Barberry, red Japanese | J.F.M.A.M.J.J.A.S.O.N.D | J.F.M.A.M.J.J.A.S.O.N.D | H. 1.5m | | -30°C | |
| Firethorn Orange | J.F.M.A.M.J.J.A.S.O.N.D | J.F.M.A.M.J.J.A.S.O.N.D | H. 4m | | -15°C | |
| Firethorn Red | J.F.M.A.M.J.J.A.S.O.N.D | J.F.M.A.M.J.J.A.S.O.N.D | H. 4m | | -15°C | |
| Firethorn Yellow | J.F.M.A.M.J.J.A.S.O.N.D | J.F.M.A.M.J.J.A.S.O.N.D | H. 4m | | -15°C | |
| Gooseberry | J.F.M.A.M.J.J.A.S.O.N.D | J.F.M.A.M.J.J.A.S.O.N.D | H. 1.5m | | -25°C | |
| Gorse, common | J.F.M.A.M.J.J.A.S.O.N.D | J.F.M.A.M.J.J.A.S.O.N.D | H. 2.5m | | -17°C | |
| Hawthorn, Common | J.F.M.A.M.J.J.A.S.O.N.D | J.F.M.A.M.J.J.A.S.O.N.D | H. 10m | | -35°C | |
| Holly, common | J.F.M.A.M.J.J.A.S.O.N.D | J.F.M.A.M.J.J.A.S.O.N.D | H. 2m | | -20°C | |
| Natal Plum | J.F.M.A.M.J.J.A.S.O.N.D | J.F.M.A.M.J.J.A.S.O.N.D | H. 2.5m | | -5°C | |
| Olive, Russian | J.F.M.A.M.J.J.A.S.O.N.D | J.F.M.A.M.J.J.A.S.O.N.D | H. 12m | | -24°C | |
| Quince, Japanese flowering Orange | J.F.M.A.M.J.J.A.S.O.N.D | J.F.M.A.M.J.J.A.S.O.N.D | H. 2m | | -29°C | |
| Quince, Japanese flowering Red | J.F.M.A.M.J.J.A.S.O.N.D | J.F.M.A.M.J.J.A.S.O.N.D | H. 2m | | -29°C | |
| Quince, Japanese flowering White | J.F.M.A.M.J.J.A.S.O.N.D | J.F.M.A.M.J.J.A.S.O.N.D | H. 2m | | -29°C | |
| Rose rugosa | J.F.M.A.M.J.J.A.S.O.N.D | J.F.M.A.M.J.J.A.S.O.N.D | H. 2m | | -40°C | |
| Sea Buckthorn | J.F.M.A.M.J.J.A.S.O.N.D | J.F.M.A.M.J.J.A.S.O.N.D | H. 10m | | -17°C | |