Shrubby Honeysuckle –
Lonicera fragrantissima (latin)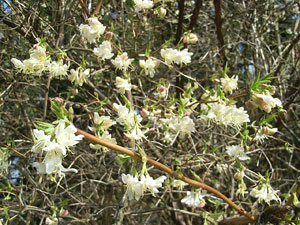 Author: Konrad Lackerbeck
Geographical origin: Eastern China.
Adult dimensions: Height up to 3m, width up to 4m.
Foliage: Deciduous to semi-evergreen.
Type of soil: Any, well drained.
Hardiness: Hardy to -30°C.
Exposure: Partial shade.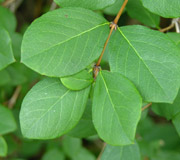 Author: Derek Ramsey
Characteristics and uses:
The Shrubby honeysuckle is a very hardy shrub that flowers in winter. Its small white flowers are heavily scented and full of nectar; the smell is reminiscent of Jasmine.
It has a bushy yet weeping form that makes it a suitable specimen tree in borders or smaller gardens. You will also benefit from its sweet perfume at a time in the year when flowers are scarce...
List of Lonicera:
Honeysuckle Box leaved (Lonicera nitida)
, excellent ground cover...
Honeysuckle Edible, May Berry (Lonicera kamtschatica)
, produces edible blue berries...
Honeysuckle Fly (Lonicera xylosteum)
, much used within country hedges...
Honeysuckle Goldflamme (Lonicera heckrottii Goldflame)
, tubular, vivid red shaped flowers, reveal a yellow-orange centre...
Honeysuckle Hall's prolific (Lonicera japonica Hall's prolific)
, very fragrant flowers, creamy-white to start with then yellow...
Honeysuckle Tellmanniana (Lonicera Tellmanniana)
, golden-yellow flowers...