Bamboo Pleioblastus linearis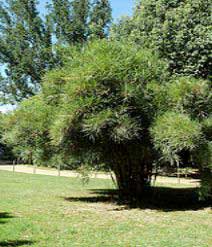 Geographic Origin: Originates from the South of Japan, (Ryukyu Islands).
Adult size: 3 to 4.5 m. in height.
Cane diameter: 0,5 to1,5 cm.
Foliage: Evergreen.
Type of soil: Moist and deep. Does not like excessive chalk.
Exposure: Partial shade or sun.
Hardiness: -20°C.
Root development: Runner root system (spreading variety).
Characteristics and uses:
This bamboo has a linear, dense and compact shape. Its leaves are green and very slender. It has a weeping form.

It can be planted as a lone specimen or in a tub or a planter. It is ideal for growing in groups or on embankments.

It has traditionally been used for ornamental purposes such as in the Okinawa archipelago where it used for covering wooden structures.
www.planfor.CO.UK