Snowball Tree –
Viburnum opulus 'Roseum' (latin)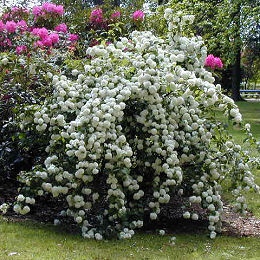 Area of origin: Found in the 16th century.
Adult Dimensions: Height up to 4m (13'), width up to 3m (9,8').
Foliage: Deciduous.
Soil Type: Avoid that which is too dry or too wet or too poor.
Hardiness: Hardy to -30°C.
Exposure: Full sun.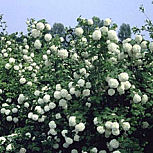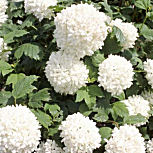 Characteristics and Uses:
Magnificent abundant pure white balls of flowers from April to June. Very decorative this shrub can be planted alone in parks and gardens or within mixed beds and hedges.
Photos-Testimonials:

List of Viburnum:
Guelder-Rose (Viburnum opulus), abundant blossom of large umbrella shaped flat heads, followed by extremely decorative red berries, red wine colored foliage in autumn
Korean Spice Viburnum 'Aurora' (Viburnum carlesii 'Aurora'), big clusters of extremely fragrant soft pink flowers
Laurustinus (Viburnum tinus), evergreen foliage, white blossom from November through to April
Wayfaring Tree (Viburnum lantana), white blossom, followed by red berries, turning black, extremely appreciated by birds

See the Viburnum catalogue