Chaste-tree or Chasteberry -
Vitex agnus-castus (latin)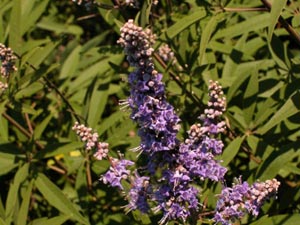 Geographical origins: Mediterranean areas, Asia.
Adult dimensions: Height up to 5m, width up to 3m.
Foliage: Deciduous, aromatic.
Type of soil: All, even chalky.
Hardiness: Hardy to -17°C. Withstands seaside areas and drought.
Exposure: Full sun.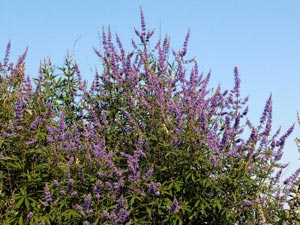 Characteristics and uses: Also called the 'Pepper Tree', The Chaste Tree will brighten up your garden. In summer, it is adorned with long, scented panicles of blue flowers. Crush its foliage and smell its peppery fragrance.
A quick growing tree, it will fit perfectly in your flowering or rural hedges. Easy to grow and look after, a simple pruning of the dead branches is enough to keep it looking beautiful over the years.
It will be equally sensational planted in your border, surrounded by other shrubs and low growing flowers.
In the past, the berries, with their peppery taste, were used to calm the ardors of young people, hence its name.