Area of origin: Hybrid of common horse-chestnut (Aesculus hippocastanum) and red buckeye (Aesculus pavia)
Adult Dimensions: Height up to 20 m (65.6'), width up to 15 m (49.2').
Foliage: Deciduous.
Soil Type: Prefers fertile soils, deep and rich but not too wet. Rapidly loses leaves in ground that is mediocre and dry.
Hardiness: Hardy to -28°C.
Exposure: Full sun.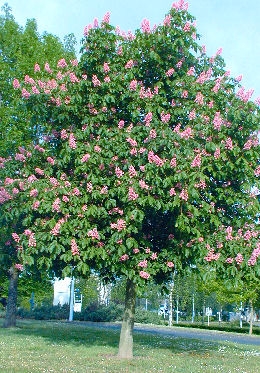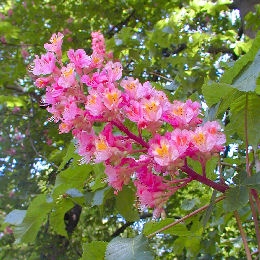 Characteristics and Uses:
This beautiful tree produces magnificent dark pink flowers on red stems in spring. It can be planted alone, in flowerbeds or in rows. It is particularly good for topiary and can be cut into numerous shapes, balls, cubes and rectangles. Apart from the flowers it can also be distinguished from the common horse-chestnut by the buds which are much less sticky and by the fruits which are smaller.
Be careful the fruit is not edible. They are not the same as chestnuts..