Paper Birch or Canoe Birch -
Betula papyrifera or Betula grandis (latin)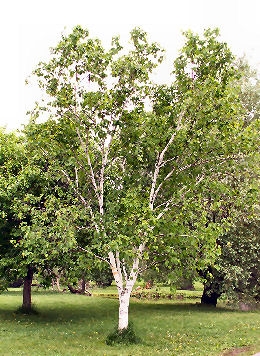 Areas of origin: Canada and Northern United States. Introduced in 1750.
Adult Dimensions: Height up to 30 metres,(98.4') width up to 15 metres (49.2').
Foliage: Deciduous.
Soil Type: All.
Hardiness: Hardy to -36°C.
Exposure: Full sun.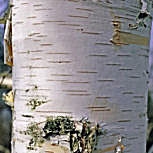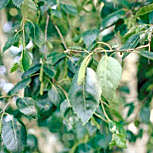 Characteristics and Uses: The very white bark of this lovely tree is smooth and silky and the leaves become beautiful shades of golden yellow in autumn. This vigorous tree is planted alone, and sometimes cut into a standard. Bonsai enthusiasts enjoy working on this variety. American Indians use the bark to make canoes. The wood is used for making barrels, turning and paste for paper.