Christmas Camellia 'Yuletide' - Camellia sasanqua 'Yuletide' (latin)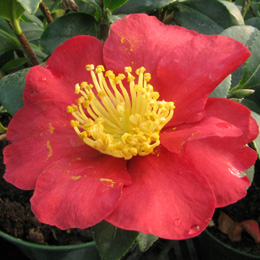 Geographic origins: Japanese forests (Island of Ryukyu).
Adult dimensions: Height up to 10 metres, width up to 5 metres.
Foliage: Evergreen, bright dark green.
Type of soil: Dislikes chalk. Add peat to avoid compacted soils.
Hardiness: Hardy to -12°C.
Exposure: Shade.


Characteristics and uses:
The Christmas Camellia 'Yuletide' has small shiny red flowers that are lit up by yellow stamens. Flowering is from November through to January. To increase the number of flowers from year to year, it is a good idea to water the Christmas Camellia from April through to September. The Camellia 'Yuletide' is very tolerant of pruning once the flowering period is over.
The Camellia sasanqua 'Yuletide', is very dense and has a pyramid like shape, it may therefore be ideal for you pots or a small garden. It is happy either planted as a lone specimen in the garden or in a border with other peat loving plants. It is also very beautiful when grown on your balcony against either a trellis or a wall.
www.planfor.co.uk