Bamboo Phyllostachys aurea 'Koi'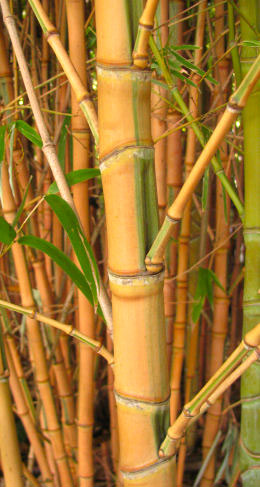 Geographic Origin: Originates from the coastal provinces of southeast China.
Adult size: 5.5 to 8.5 metres in height.
Diameter of cane: 1.5 to 5.5cm.
Foliage: Evergreen.
Type of soil: Moist and deep. Does not like excessive chalk.
Exposure: Partial shade or sun.
Hardiness: -20°C.
Root development: Slightly spreading root system.
Characteristics and uses:
It is very similar to the Phyllostachys aurea. Its foliage is light green. Its canes and branches are yellow but have a green groove between every other knot.

It can be used for hedging or as a single specimen, this bamboo is at home in a pot or planter.

Its young shoots are edible. It was introduced into Europe in the 1980's.
www.planfor.co.uk