Bamboo Phyllostachys aurea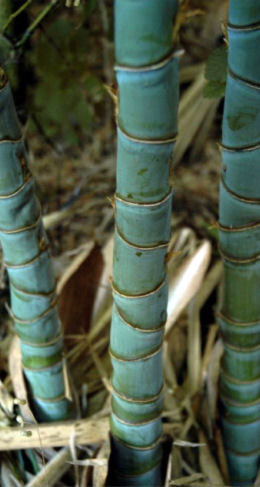 Geographic Origin: Originates from the coastal provinces of south east China, Zhejiang and Fujian.
Adult size: 5 to 7 metres in height.
Diameter of cane: 1,5 to 5,5 cm.
Foliage: Evergreen.
Type of soil: Moist and deep. Does not like excessive chalk.
Exposure: Partial shade or sun.
Hardiness: -25°C.
Root development: Runner root system (spreading variety).
Characteristics and uses:
Its light green foliage covers the cane from top to bottom. The knots on some of the canes are compressed and sit on top of one another at the base of the cane, this trait helps with its recognition.

The Phyllostachys aurea is happy anywhere thanks to its hardiness, but it can also tolerate drought. Use it as a hedge or windbreak, plant it as a single specimen or in a pot or planter.

It is the most widespread of the medium sized bamboos. The fact that it is hardy and easily available makes it the most popular bamboo in France. Introduced into Europe at the end of the 19th century.
www.planfor.co.uk