Snow Gum Eucalyptus Tree –
Eucalyptus niphophila (latin)
Geographical origin:
Australia, Malaysia, Tasmania.
Introduced in Europe Europe en 1828.
Adult dimensions:
Height up to 7 m,
width up to 4 m.
Foliage: Evergreen, green- blue.
Type of soil: Any except acidic soil.
Climate: Hardy to -18°C.
Exposure: Full sun.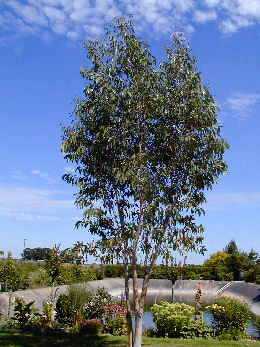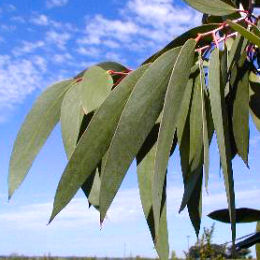 Characteristics and uses:
The Snow Gum Eucalyptus Tree (Eucalyptus niphophila) displays an umbrella of white blossom from May onwards. The foliage is excellent for flower arranging. Its leaves are elongated with a bluish green colour and can be up to 10 cm long by only 2 cm wide. It has an extremely decorative green-cream and grey bark. This Eucalyptus likes to be watered frequently when young. It can be planted either on its own or as part of a group of Eucalyptus and it will thrive in smaller gardens, its adult size being less imposing than the size of the Eucalyptis Gunnii.